FREE ADMISSION, NO RESERVATION
FIRST COME , FIRST SERVED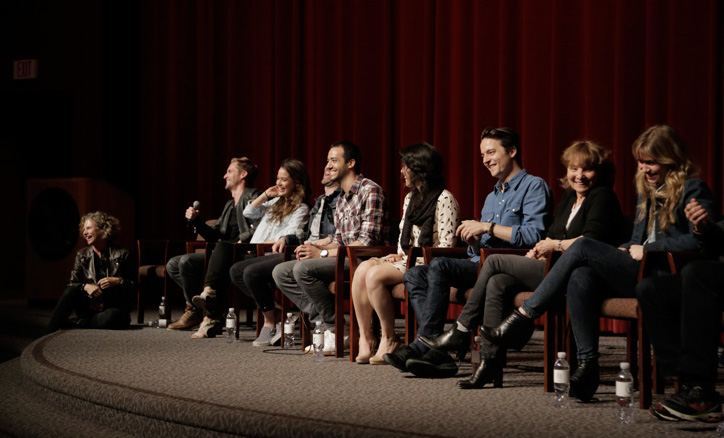 SPONSORED BY

Presented in Association  with:
FACF,
Unifrance,
France TV distribution,
The American Cinematheque,
The French Embassy in the United States,
SACEM
If you are planning to see a film at COLCOA, come earlier and attend a Happy Hour Talk from Tuesday to Saturday.
The panel series Happy Hour Talks, programmed at 3:00 pm (4 pm on Saturday), presents topics of interest to industry professionals and cinephiles.
From Tuesday to Friday, each panel is followed by a complimentary reception in the COLCOA lounge. (for panel attendees only) Panel attendees also have priority access to the theatres for the next screenings.
FREE ADMISSION – NO RESERVATION – FIRST COME FIRST SERVED. 
You must be 21+ to attend. No late entry allowed in the panel after 3:15 during weekdays.
Program may change due to COVID regulation regarding travels between Europe and the US.
TUESDAY NOVEMBER 2 – Truffaut Theatre – 3:00 pm 


(Panel ends at 3:45 pm)
Meets the Talent!
French filmmakers and Actors are invited to talk about American Cinema and how it has influenced them. Moderator: Wade Major, Critic, KPCC.
(Followed by a reception in the COLCOA lounge at 3:50 pm)
WEDNESDAY NOVEMBER 3 – Renoir Theatre – 3:00 pm 


(Panel ends at 3:45 pm)
Tribute to Bertrand Tavernier
American friends of the beloved French writer and director, who passe away this year, will gather to remember him and share their souvenirs with the COLCOA audience. With Joe dante, Taylor Hackford, Howard A. Rodman, Irwin Winkler.
The panel will follow the free screening of CAPTAIN CONAN scheduled the same day, as well as the Los Angeles Premiere of restored THE JUDGE AND THE ASSASSIN on 11/2
(Followed by a reception in the COLCOA lounge at 3:50 pm)
THURSDAY NOVEMBER 4 – Truffaut Theatre – 3:00 pm 


(Panel ends at 3:40 pm)
Focus on a Composer: Amin Bouhafa
A 40 minute discussion with the composer of Netflix's The Summit of the Gods shown at COLCOA on Wednesday the 3rd at 7:55 pm, the co-composer of Gagarine, premiering at COLCOA on Saturday the 5th at 7:40 and the composer of The Man who Sold his Skin (Now playing on COLCOA Virtual Cinema) – Moderator: Frederic Cassidy, Composer, Director. 
(Followed by a reception in the COLCOA lounge at 3:50 pm)
FRIDAY NOVEMBER 5 – Truffaut Theatre – 3:00 pm 


(Panel ends at 3:45 pm)
Focus on a Filmmaker: Nicole Garcia
A 40-minute discussion with the writer/director/actor Nicole Garcia after the premiere of her new film Lovers, on Thursday November 4 at 5 pm. Garcia also co-written and directed Going Away (now playing on COLCOA Virtual Cinema)
Interviewer: Ben Croll ~ Variety
(Followed by a reception in the COLCOA lounge at 3:50 pm)
SUNDAY NOVEMBER 6 – Truffaut Theatre – 4:00 pm 


(Panel ends at 4:40 pm)
Focus on a Producer: Philippe Martin (Les Films Pelléas)
A 40-minute discussion with the producer of three films premiering at COLCOA this year: Simple Passion, on November 3rd at 10:25 pm, Lovers, on November 4th at 5:00 pm, Gallant Indies, on November 5th at 4:00 pm. Martin also recently produced On a Magical Night, Sibyl and The Trouble With You (all of them available on COLCOA Virtual Cinema ). Moderator: Pat Saperstein, Deputy Editor, Variety.
(Followed by a reception in the COLCOA lounge at 3:50 pm)