Jean-Luc Godard by Howard Rodman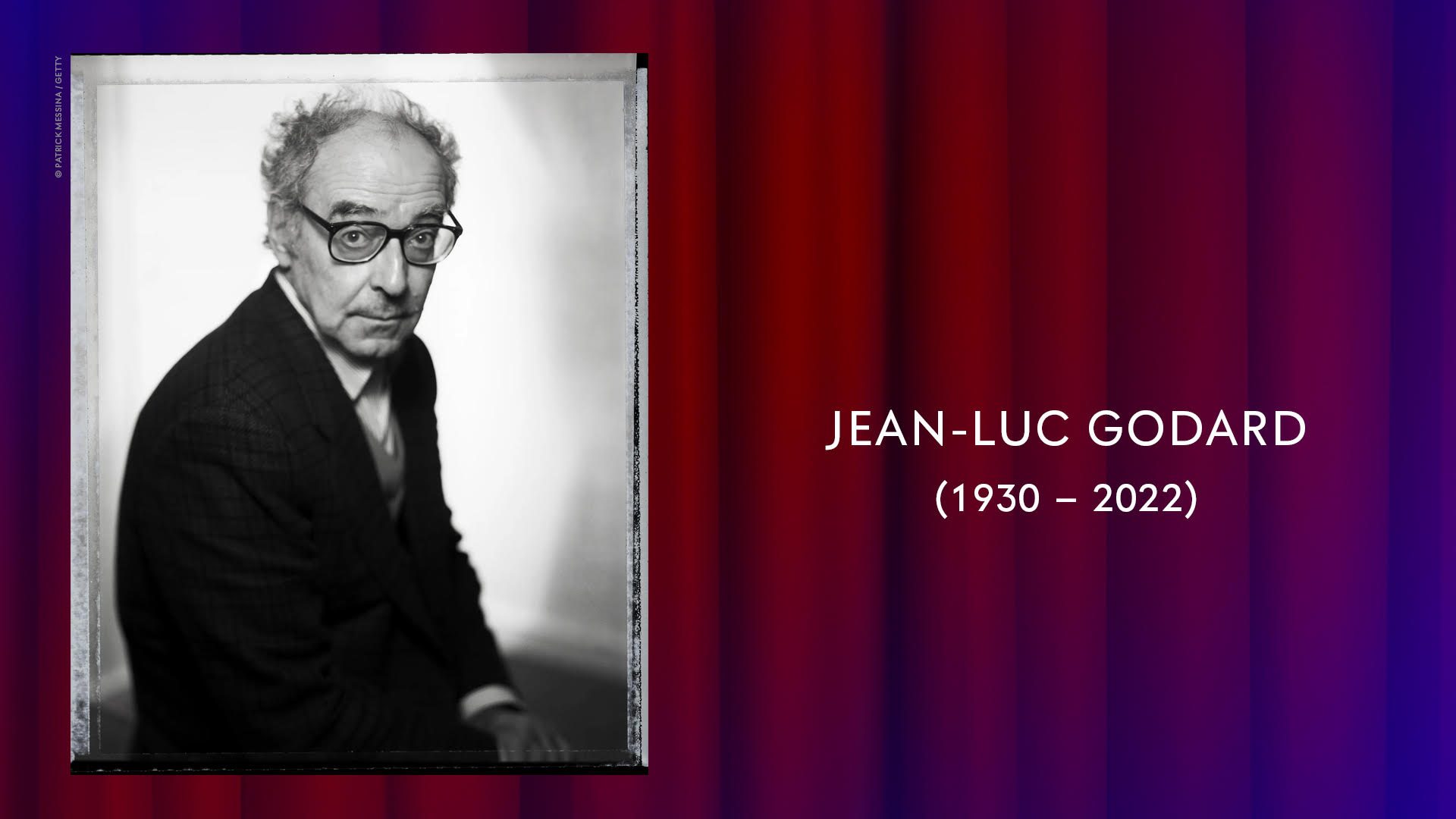 If you were to speak of a difficult genius who reinvented an art form, created masterpieces that will endure forever, then sent it all crashing down, the better to reinvent it again, all the while with his back turned to the audience— Why that would be Miles Davis. Or Jean-Luc Godard.
He first expressed his engagement with film as a critic for Cahiers du Cinéma. It was there that he said, a tracking shot is a moral decision. That he said: a story must have a beginning, a middle, and an end, but not necessarily in that order. That he said: cinema is truth, twenty-four times a second. But his love for cinema was too large for mere criticism to contain, so he went from watching films to making them. We all of us remember Breathless, with its jump cuts, its jazzy Martial Solal score, its quotations and aphorisms, its tracking shots by Raoul Coutard in a wheelchair, above all its incandescent pairing of Seberg and Belmondo.
And just as Belmondo in Breathless would stare at a photo of Bogart, so we stared at photos of Belmondo. We wanted to wear scarves, to play pinball in cafés, to drink coffee from round bowls, we wanted to dance the Madison with Anna Karina, we wanted to be Anna Karina. It's no accident that my punk band was called MADE IN USA, after a Godard film that was at the time the most difficult to see, therefore the most deeply treasured. That my loan-out corporation is called Figaro-Pravda, after an arcane joke in Godard's Alphaville. Or that my glasses frames are my glasses frames. Brian Eno famously said, only five hundred people bought the first Velvet Underground album, but each of those five hundred started a band. The same could be said of Godard.
A generation of us worshipped at the altar of Le petit soldat, A Woman is a Woman, Une femme mariée (which the censors forced him to change from La femme mariée, lest it be thought that the film described all French marriages). And Band of Outsiders, and Deux ou trois chose que je sais d'elle, and Weekend, and above all the wondrous Le Mépris (Contempt), which to me is his most moving work, and fully belongs in the pantheon of films about doomstruck screenwriters alongside Barton Fink, In a Lonely Place, and Sunset Boulevard.
And so we watched Godard's films again and again until our love of them was too large to be contained by mere viewing, so we started writing them. Creating them.
Godard wrote, once we can make films, we can no longer make films like the ones that made us want to make them. I used to think that was the saddest sentence in the world. Now I think it's one of the most optimistic.
He would be mortified by the tribute we are paying him tonight. We at the Academy gave him an honorary Oscar, which he declined, claiming that being on a plane for ten hours without a cigarette was not something he could sustain. When the BFI gave him their award, he sent the following telegram:
IF AM NOT THERE TAKE ANYONE IN THE STREET THE POOREST IF POSSIBLE GIVE HIM MY 100 POUNDS AND TALK WITH HIM OF IMAGES AND SOUND AND YOU WILL LEARN FROM HIM MORE THAN FROM ME BECAUSE IT IS THE POOR PEOPLE WHO ARE REALLY INVENTING THE LANGUAGE STOP YOUR ANONYMOUS GODARD
In Godard's La Chinoise — on the wall of the apartment where the drinking-coffee-from-a-bowl Maoists live — someone has painted the words, IL FAUT CONFONTER LES IDÉES VAGUES AVEC DES IMAGE CLAIRES. We must confront vague ideas with clear images. He did this again, and again, and again. What we thought of as Godard's career turned out to be just the beginning of a far longer enterprise: his collaborations with Jean-Pierre Gorin and the Dziga Vertov Group, and for the longest time with Anne-Marie Mieville, pushed the boundaries of the form, redefining incessantly, disturbingly, transcendently the language of film, of video, of cinema. His last piece, done at age 90, was for Instagram Live.
Jean-Luc Godard was our bed and our board, our wound and the salt in it, our rock and our salvation, our inspiration, our provocation. Let's close with something Godard himself once said about Orson Welles…
…all of us will always owe him everything.
Howard Rodman, Screenwriter and Novelist, member of the Writers Guild Of America West (WGA West)